Carina Hong '22 Honored With Morgan Prize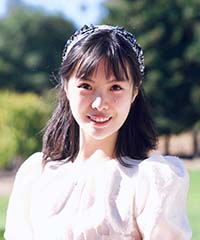 Letong (Carina) Hong '22 will receive the 2023 AMS-MAA-SIAM Frank and Brennie Morgan Prize for Outstanding Research in Mathematics by an Undergraduate Student, for proving a number of results and solving conjectures in combinatorics, number theory, and probability.
Carina, a double major in courses 18 and 8 and the former president of the Undergraduate Mathematics Association, is currently at Oxford University as a Rhodes Scholar for China.
Among others, she thanked her undergraduate advisors Pavel Etingof, "whose kindness and support has been defining in my mathematical journey," Scott Sheffield, "for walking me into the brilliant world of random surfaces with charisma and humor," and Henry Cohn, "for teaching me so much about an intricately charming problem and encouraging me, especially during setbacks."
Carina will be receiving her award at the Joint Mathematical meeting in January in Boston.
Congratulations Carina!