Jörn Dunkel is new MathWorks Professor and a Schmidt Polymath awardee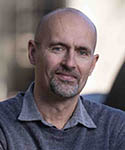 The Provost has selected Jörn Dunkel as the new MathWorks professor, taking over from Gil Strang.
Gil, the first holder of the Mathworks Professorship, recently retired after 61 years on our faculty. His last lecture in 18.06 was streamed live and has over 945,000 views.
Jörn also received the 2023 Schmidt Science Polymath award. For recently tenured professors with remarkable track records doing interdisciplinary research, the Schmidt Futures Foundation award include large grants to explore a "substantive disciplinary shift" soon after achieving tenure. (Also see MIT News story.)
Congratulations, Jörn and Gil!