Anette Hosoi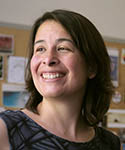 Research
Fluid Dynamics, Numerical Analysis
Bio
Anette (Peko) Hosoi is the Neil and Jane Pappalardo Professor of Mechanical Engineering and a Core Faculty Member of the Institute for Data, Systems, and Society. Since 2010, she is jointly appointed in the Mathematics Department.

She received her PhD in physics from the University of Chicago in 1997. She first came to MIT as an Applied Mathematics Instructor from 1998-2000, and joined the Mechanical Engineering faculty in 2002.

Professor Hosoi is specialist in free surface flows, surface tension, and complex fluids fluid dynamics. From 2004-06 she was appointed the Doherty Professor in Ocean Utilization. In 2005 she received the Ruth and Joel Spira Award for Distinguished Teaching, and in 2006 the School of Engineering Junior Bose Award for Education. In 2010 she was selected by MIT to be a MacVicar Fellow. She received a second Bose Award for Excellence in Teaching 2011, and the Den Hartog Distinguished Educator Award in 2012. In 2012, she was elected Fellow of the APS. She was the I. E. Block Community Lecturer in 2013 (awarded by SIAM), and in 2018, she received the Stanley Corrsin Award of the APS.