Daniel Freedman Wins Special Breakthrough Prize in Fundamental Physics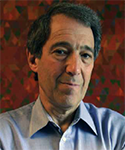 Professor emeritus Daniel Z. Freedman has been awarded the Special Breakthrough Prize in Fundamental Physics. He shares the $3 million prize with two colleagues, Sergio Ferrara of CERN and Peter van Nieuwenhuizen of Stony Brook University, with whom he developed the theory of supergravity.
"Dan's work on supergravity has changed how scientists think about physics beyond the standard model, combining principles of supersymmetry and Einstein's theory of general relativity," says Michael Sipser, dean of the MIT School of Science and the Donner Professor of Mathematics. "His exemplary research is central to mathematical physics and has given us new pathways to explore in quantum field theory and superstring theory."
Congratulations Dan!
Read more about Dan's achievement in the MIT News.