Four PRIMES/RSI Students Receive Davidson Honors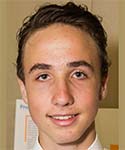 PRIMES student Sean Li won the $10,000 Davidson Fellowship for his project "On Group-Theoretic Extensions of Penney's Game," mentored by Tanya Khovanova, who he says "provided high-level insight and gave myriads of advice on exposition." Sean is attending MIT as a prospective math major.
Honorable mentions went to PRIMES students Espen Slettnes and Kenta Suzuki (now an MIT student). RSI student Andrei Mandelstam also received an honorable mention. Of the six math projects receiving Davidson honors this year, four were completed in our PRIMES or RSI programs.
Congratulations and thanks to Pavel Etingof, Slava Gerovitch, David Jerison, Tanya Khovanova, and Ankur Moitra for running PRIMES and RSI, and to the PRIMES/RSI mentors: our PhDs Jesse Geneson and Daniil Kalinov, and Prof. Michael Zieve of the University of Michigan!