Tristan Collins Receives 2021 Aisenstadt Prize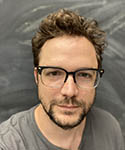 The International Scientific Advisory Committee of the Centre de Recherches Mathematiques, University of Montreal, recently announced that Tristan Collins is the recipient of the 2021 André Aisenstadt Prize in Mathematics.
This prize, awarded to a young outstanding Canadian mathematician, will also be given to Giulio Tiozzo, who is at the University of Toronto.
Tristan will virtually present "Exploring string vacua through geometric transitions" at a CRM colloquium on Nov. 19, 2021.
Congratulations Tristan!