Michel Goemans Awarded Dantzig Prize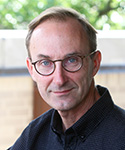 Michel Goemans received the George B. Dantzig Prize, recognizing Michel's "outstanding contributions to the field of combinatorial optimization; most notably, the initiation of new research directions, introduction of novel and deep techniques, and ingenious use of sampling, rounding, and geometric ideas to significantly advance several fields, including the pioneering use of semi-definite programming for the design of approximation algorithms."
The George B. Dantzig Prize is awarded every three years by the Mathematical Optimization Society (MOS) and the Society for Industrial and Applied Mathematics (SIAM).
Michel was also named RSA Professor of Mathematics. The RSA public key encryption technology was invented at MIT by Ron Rivest, Adi Shamir and Len Adleman, who were on the faculty in Mathematics (for Len and Adi) and in EECS (for Ron).
Congratulations Michel!