Larry Guth to Receive the Maryam Mirzakhani Prize of the National Academy of Sciences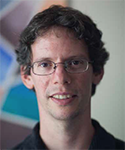 Larry Guth will receive the newly named Maryam Mirzakhani Prize in Mathematics (formerly the NAS Award in Mathematics) at the Academy's 157th annual meeting in April 2020.
He is recognized "for developing surprising, original, and deep connections between geometry, analysis, topology, and combinatorics, which have led to the solution of, or major advances on, many outstanding problems in these fields." The Mirzakhani prize honors exceptional contributions to the mathematical sciences by a mid-career mathematician.
Congratulations Larry!