Yufei Zhao Receives MIT's UROP Outstanding Mentor Award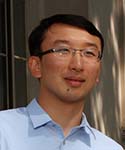 Yufei Zhao received this year's UROP Outstanding Mentor Award, presented to research mentors who have demonstrated exceptional guidance and teaching in a research setting. Yufei's undergraduate mentees have already produced numerous high-quality results and published in prestigious venues. Beyond their research projects, Yufei offers guidance on their decision making, and personally assists in finding summer internships. Students wrote that Yufei "made research mathematics less intimidating to us and truly sparked our interests in combinatorics." "Professor Zhao is invested in our success."
Complete list of 2020 Awards Convocation honorees
Congratulations Yufei!