Lisa Piccirillo Awarded 2021 Maryam Mirzakhani New Frontiers Prize in Mathematics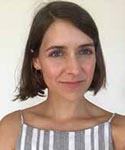 Assistant Professor Lisa Piccirillo was selected for an inaugural 2021 Maryam Mirzakhani New Frontiers Prize, created in 2019 by the Breakthrough Foundation to recognize outstanding early-career women in mathematics. Lisa is cited for "resolving the classic problem that the Conway knot is not smoothly slice." She was also recently named one of this year's WIRED25 for "People Who Are Making Things Better."
"I can't wait to see what comes next from these brilliant young women," said School of Science Dean Nergis Mavalvala, congratulating Lisa Piccirillo, fellow New Frontiers prizewinner and 2018 Math PhD alum Nina Holden, and two women faculty physicists, each selected for the Breakthrough's New Horizons Prize in Physics.
Congratulations Lisa!