Talbot 2014: Motivic Homotopy Theory
Mentored by Marc Levine and Bradley Drew
March 16-22, 2014
Pigeon Forge, Tennessee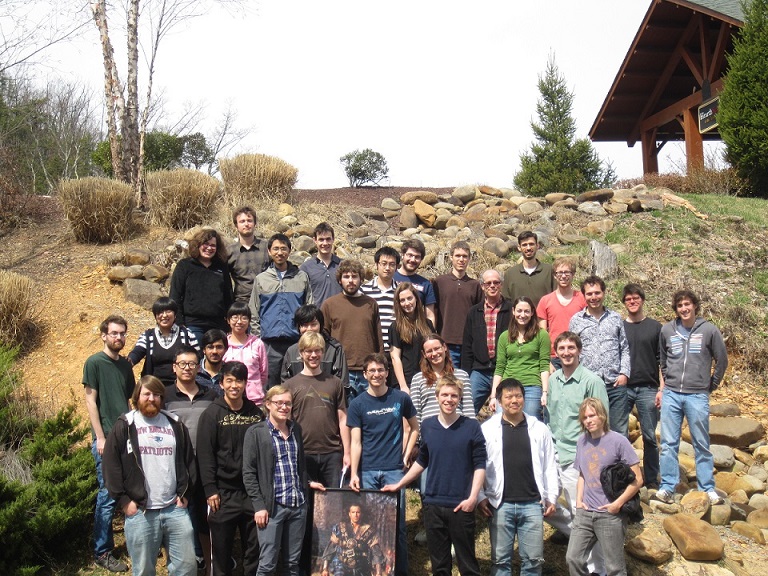 Alternative photo
|
Very alternative photo
Topic: The 2014 Talbot workshop, aimed toward graduate students and other young researchers, will give an introduction to motivic homotopy theory and some of its applications to K-theory and algebraic geometry. This field arose from the work of Morel, Voevodsky, Friedlander, Suslin and many others in the 1990s and gives a framework for doing homotopy theory in a setting applicable to algebraic geometry and number theory. We will approach three aspects of this field: First of all, we will give a brief introduction to the foundational constructions, such as motivic unstable and stable homotopy categories, and describe some of the main results known about the structure of these categories. Secondly, we will introduce the objects in the motivic categories that enable one to represent theories such as algebraic K-theory, motivic cohomology or algebraic cobordism within this setting, and discuss some of the main results which relate these theories and enable one to build new ones. Finally, if time remains, we will describe some of the known computations of the "structure constants" in the theory, such as Morel's computation of the endomorphisms of the sphere spectrum, and computations of unstable homotopy groups due to Asok and Fasel, which have interesting applications to stablility questions for vector bundles.
Mentor: The 2014 Talbot workshop will be mentored by Prof. Marc Levine and Bradley Drew of Universität Duisburg-Essen.
Format: The workshop discussions will have an expository character and most of the talks will be given by participants. The afternoon schedule will be kept clear for informal discussions and collaborations. The workshop will take place in a communal setting, with participants sharing living space and cooking and cleaning responsibilities.
Timeline: Applications for the 2014 Talbot workshop are now closed.
Funding: We will cover all local expenses including lodging and food. We also have limited funding available for participants' travel costs.
Who should apply: Talbot is meant to encourage collaboration among young researchers, particularly graduate students. To this end, the workshop aims to gather participants with a diverse array of knowledge and interests, so applicants need not be an expert in the field. In particular, students at all levels of graduate education are encouraged to apply.
Contact Information: Please e-mail the organizers at talbotworkshop(at)gmail.com if you have any questions.