Theresa Cummings Receives Infinite Mile Award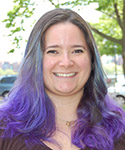 Academic Services staffer Theresa Cummings is one of this year's recipients of the School of Science Infinite Mile Award. Theresa was nominated for the "Beyond Expectation Award," for consistently going above and beyond the requirements of her job to make the Math Department a better place.
Theresa manages the complex enterprise surrounding the department's massive service courses (18.01, 18.02, 18.03, ...), as well as managing all of the make-up, conflict, special-needs, and advanced standing exams, and a host of other special topics. She is also an important point of contact with the Registrar's Office, Student Disability Services, the UAAP, GECD, and other departments.
Congratulations Theresa!