Chenyang Xu Wins New Horizons Prize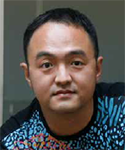 Chenyang Xu will receive a 2019 New Horizons in Mathematics Prize for his work on the Minimal Model Program in algebraic geometry.
The "early-career" version of the Breakthrough Prize is awarded to promising junior researchers who have already produced important work in mathematics.
Prior to joining our department this year, Chenyang was a professor at the Beijing International Center of Mathematical Research. He recently spoke at ICM 2018, and was awarded China's inaugural Future Science Prize in Mathematics and Computer Science in 2017.
Previous MIT recipients of the New Horizons Prize in Mathematics are Larry Guth in 2016, and Wei Zhang and Zhiwei Yun in 2018.
Read more about the winners and where to watch the awards ceremony at the MIT News.