PRIMES Alum Earns Morgan Prize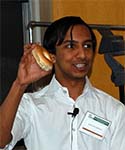 PRIMES alumnus Ravi Jagadeesan uses his bagel to explain the concept of a Riemann surface as part of his 2013 PRIMES presentation. Now a PhD student at Harvard, he received the 2019 AMS-MAA-SIAM Frank and Brennie Morgan Prize for Outstanding Research in Mathematics by an Undergraduate Student. In his acceptance note, Ravi thanked PRIMES and Pavel Etingof.
Congratulations Ravi!