Henry Cohn Receives Conant Prize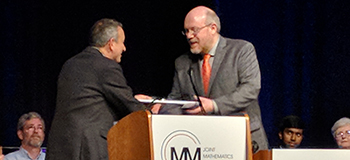 Adjunct Professor Henry Cohn received the 2018 Levi L. Conant Prize from the American Mathematical Society at the Joint Math Meeting for his article "A Conceptual Breakthrough in Sphere Packing," published in the February 2017 issue of the Notices of the AMS. Henry is a principal researcher at Microsoft Research New England, and his research interests include discrete mathematics, broadly interpreted. Professor David Vogan received the Levi L. Conant Prize in 2011.
"It's a pleasure and an honor to receive the 2018 Levi L. Conant Prize," said Henry. "The /E/_8 and Leech lattices are fascinating objects, and I hope readers will grow to love them as much as I do."
Describing Henry's award, the AMS announcement stated: "In 2016, Maryna Viazovska gave an astounding solution to the sphere packing problem in dimension 8. Just a week later, (Abhinav) Kumar, (Stephen D.) Miller, (Danylo) Radchenko, and Viazovska solved the sphere packing problem in dimension 24 by similar ideas. Cohn's article unfolds the dramatic story behind these proofs. What is special about 8 and 24 that makes the proof work only in these dimensions? The answer is that there are truly extraordinary sphere packings in these dimensions, arising from the /E/_8 lattice in dimension 8 that appears in Lie theory, and the Leech lattice in dimension 24 that is so closely connected with finite simple sporadic groups."
Congratulations, Henry!