Tom Leighton Wins Visionary Award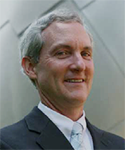 Professor Tom Leighton PhD '81 received SC Media's first ever Visionary award as Akamai Technologies' chief executive officer, at the 23rd annual SC Awards gala on March 6, 2019, in San Francisco. The Visionaries of the Last 30 Years category honors those who have shaped the industry and will serve to impact the future.
Akamai also took home the Best Web Application Solution award for its Kona Site Defender web application.
Congratulations Tom!