Peter Shor awarded 2017 Dirac Medal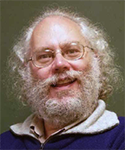 Peter Shor received the 2017 Dirac Medal from the International Centre for Theoretical Physics, along with Charles Bennett of IBM and David Deutsch of Oxford. Peter was recognized for his groundbreaking work in quantum computation, including his quantum factoring algorithm, quantum error-correcting codes, and quantum fault-tolerant computation. The award was announced on August 8, the 115th anniversary of Paul Dirac's birth. Earlier recipients of the medal include Emeritus Professor Dan Freedman and several MIT physicists.
Congratulations Peter!