Daniel Freedman's work on neutrino scattering is confirmed 40 years later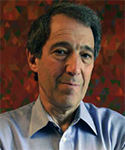 Before his arrival at MIT, Daniel Freedman wrote "Coherent Effects of a Weak Neutral Current," which appeared in the 1974 issue of Physical Review. His paper proposed the process called coherent elastic neutrino-nucleus scattering, specifically pointing out that it had a much larger strength than other neutrino reactions.
Dan, a theoretical physicist emeritus in the Applied Mathematics division, recently received a pleasant surprise—more than 40 years later. "I received a message from the head of an experimental collaboration of about 80 physicists telling me that the experiment had finally been realized and confirmed my prediction."
The results of their research were detailed in an article in the latest SCIENCE magazine, "Milk jug–sized detector captures neutrinos in a whole new way." In the article, the team describes using a device the size of a milk jug in order to observe the neutrinos scattering off atomic nuclei. This development may lead to portable neutrino detectors at nuclear facilities.