18.366 Random Walks and Diffusion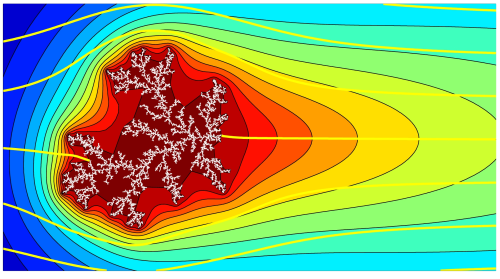 Course Description: Mathematical modeling of stochastic processes using (discrete) random walks and (continuous) diffusion equations. Applications in physics, chemistry, biology, and finance.
Prerequisite: 18.305 or permission of the instructor. A basic understanding of probability, partial differential equations, transforms, complex variables, asymptotic analysis, and computer programming would be helpful, but an ambitious student could take the class to learn some of these topics. Interdisciplinary registration from science and engineering is encouraged.
---
Handouts
---
Syllabus
The syllabus can also be downloaded.

Time & Place: Tuesdays & Thursdays 1:00-2:30pm, Room E51-057 ------ NOTE NEW ROOM.

Professor: Martin Z. Bazant, bazant@mit.edu. Office hours: Wednesdays 1-2:30 in 2-363B.

Teaching Assistant: Chris H. Rycroft, chr@math.mit.edu. Office hours: Tuesday 3:45pm-4:45pm (every week), Wednesday 2:30pm-3:30pm (weeks when homework due), Thursday 2:30pm-3:30pm (weeks when homework not due), in 2-331.

Grading: Based on problem sets (40%), midterm exam (30%), and final project (30%).

Problem Sets: Five, due on Thursdays Sep 21, Oct 5, Oct 26, Nov 9, and Nov 30. You are encouraged to work in groups and consult outside references (other than solutions to previous 18.366 problems), but you must write up each solution independently, in your own words.

Take-home Midterm Exam: One, handed out Nov 14 and due at the next lecture Nov 16.

Final Project: There is no final exam, only a written final-project report, due at the last lecture on Dec 12. The topic must be selected and approved by Nov 9.

Course Notes: Lecture notes from previous years (written by student ``scribes'') are available as a bound packet at CopyTech or can be downloaded individually from OpenCourseWare.

2006 Topics:
Normal diffusion (12+ lectures). Central Limit Theorem, asymptotic approximations, drift and dispersion, Fokker-Planck equation, first passage, return, exploration.
Anomalous diffusion (10+ lectures). Non-identical steps, persistence and self avoidance, Levy flights, Continuous Time Random Walk, fractional diffusion equations, random environments.
Nonlinear diffusion (4 lectures, as time permits). Interacting walkers, steric effects, electrolytes, porous media, DLA.
Recommended Books:
B. Hughes, Random Walks and Random Environments, Vol. 1 (Oxford, 1996).
S. Redner, A Guide to First Passage Processes (Cambridge, 2001).
H. Risken, The Fokker-Planck Equation (Springer, 2nd ed., 1989).
Further Reading:
J.-P. Bouchaud \& M. Potters, Theory of Financial Risks (Cambridge, 2000).
J. Crank, Mathematics of Diffusion (Oxford, 2nd ed., 1975).
J. Rudnick \& G. Gaspari, Elements of the Random Walk (Cambridge, 2004).
F. Spitzer, Principles of the Random Walk (Springer, 2nd ed., 2001).
bazant@mit.edu